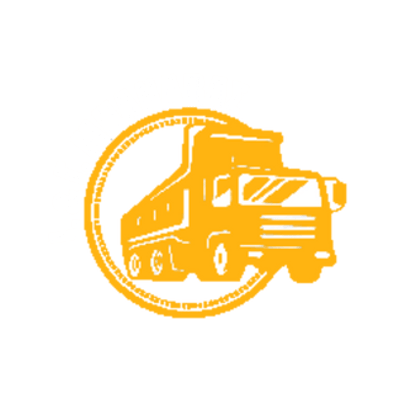 Everything You Need to Know About Pebbles and Their Uses
Pebbles are a natural material that has captivated our imagination for centuries. Over time, they have acquired a wide variety of shapes, colors, and sizes, offering countless applications in various fields.
Our company, specialized in earthworks and the supply of aggregates and construction materials, offers a wide range of pebbles in Chalkidiki and Northern Greece.
This article will take you on a journey of knowledge about pebbles and their multiple uses. Firstly, we will explore the variety of pebbles our company offers, discovering their different forms, colors, and characteristics.
Next, we will focus on the applications of pebbles in construction and architecture, highlighting their role in various projects. In the third part, we will analyze how pebbles can be incorporated into landscape design and environmental decoration, adding natural beauty and functionality.
Moreover, we will delve into the creative and artistic aspects of pebbles, exploring the world of arts and creativity using this unique material.
Lastly, we will examine the ecological aspects of pebbles and their symbolism in environmental protection and the creation of sustainable solutions. Let's embark on this exciting journey to discover the world of pebbles and learn everything there is to know about them.
The Variety of Pebbles: Learn About the Different Shapes and Colors of Pebbles Offered by I&G Banavas
Decorative pebbles are a stunning element for both interior and exterior decoration. Our company specializes in supplying decorative pebbles, offering a plethora of options to transform your space with the beauty of these natural elements.
Let's explore the variety of pebbles offered by our company:
Color Variety: Our company provides pebbles in various shades, covering a wide range of color options. From vibrant hues to natural earthy tones, you can find the perfect pebbles to enhance your indoor and outdoor areas.

Easy Ordering and Delivery: At I&G Banavas, we understand that visiting our facilities might not always be feasible. However, you can acquire these wonderful decorative pebbles through a simple ordering process. Just visit our website, choose the pebble you like, contact us via phone, email, or social media, and order the quantity you desire. The pebbles of your choice will be delivered to your doorstep promptly with fast delivery.

Versatile Uses: The colorful pebbles offer endless decoration possibilities. They can be used to create a beautiful pathway to the sea, add a unique touch to your courtyard, or embellish various other spots around your home.

Material Placement: In addition to the straightforward purchase of pebbles, our company can also take care of the material placement in your space. You can contact us for more information about this process.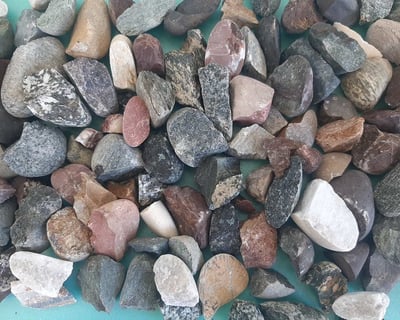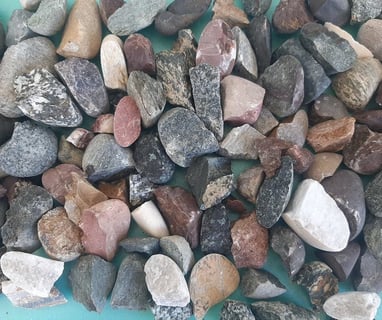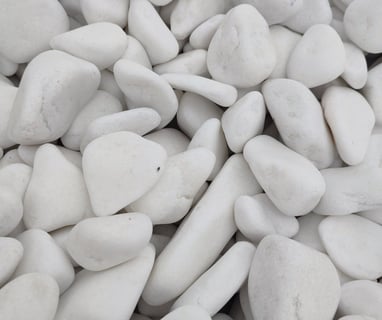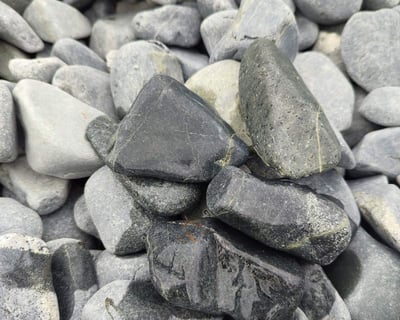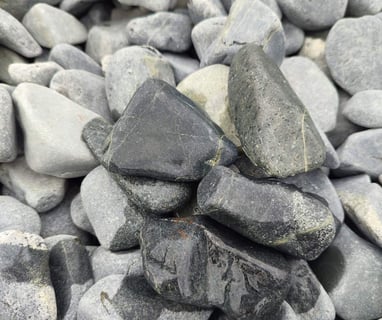 Discover How Pebbles Can Be Used in Construction Projects and Architectural Solutions
Pebbles are traditionally known for their natural beauty and ability to add a sense of calmness and authenticity to any environment. As a result, pebbles have also proven to be extremely useful in construction projects and architectural solutions, providing functionality and aesthetic value.
One of the areas where pebbles are widely used is landscape and garden design. Pebbles can be used to create pathways, borders, and elements that add a natural feel to outdoor spaces. Additionally, they can be used to craft objects such as mosaics, flowers, or even technical works, adding a unique and discreet touch to the outdoor area.
In architecture, pebbles can be used to create impressive buildings and structures. They can be applied to external building surfaces to add aesthetic value and create interesting textures. Moreover, they can be used in indoor spaces to design special flooring or wall surfaces. Pebbles can also be used for shaping interior spaces, such as exhibition spaces, hotels, or commercial stores, offering a unique and modern atmosphere.
Furthermore, pebbles can be employed in construction projects for soil and slope stabilization or protection. They can serve as a natural filter for managing water flows and preventing soil erosion.
Pebbles can be used in flooring construction to absorb shocks and distribute pressure, making them ideal for large construction projects like airports or railway stations.
Additionally, pebbles can be utilized for constructing separating walls, noise barriers, and air compensation. Due to their natural structure, pebbles can isolate sound and provide an environment with reduced noise. Moreover, they can be used to create compensatory facilities for regulating air circulation, thereby offering improved ventilation and comfort in indoor spaces.
In summary, pebbles are a versatile material that can be used in many areas of construction projects and architectural solutions. Their natural beauty, functionality, and ability to add aesthetic value make them an ideal choice for creating unique and impressive environments. Explore the various possibilities that pebbles offer and get inspired to incorporate them into your next construction projects and architectural solutions.
How can pebbles be integrated into landscape design and environmental decoration?
The integration of pebbles into landscape design and environmental decoration can add a unique sense of naturalness and harmony. These natural and smooth stones can be used in many ways to create impressive outdoor spaces.
One way is to create pathways with pebbles. Placing them in geometric patterns or even in free forms can impart a sense of organization or natural flow to the space. Additionally, they can be used to create dry rivers or streams, adding an element of water and natural movement.
Pebbles can also be used in combination with plants and flowers to create impressive functional and decorative elements. They can be used in planters or as organic borders around planted areas, adding an interesting texture and color to the garden.
The integration of pebbles into landscape design and environmental decoration adds a natural aesthetic and creates a unique character in the outdoor space. With the flexibility and variety they offer, pebbles are an intelligent element in the design and decoration of the environment.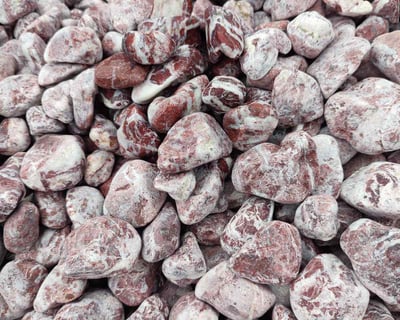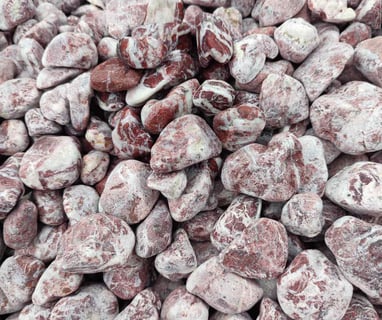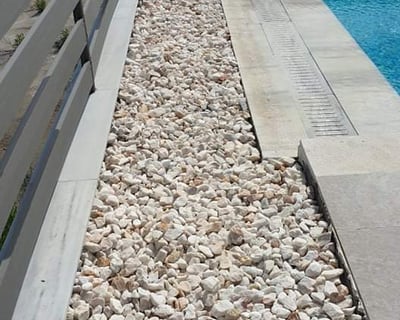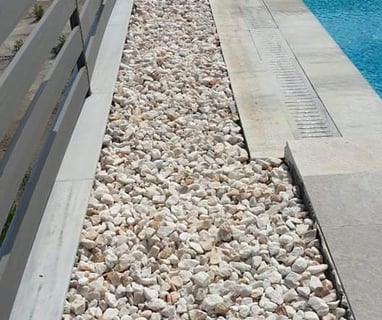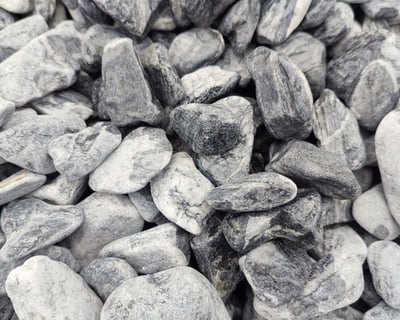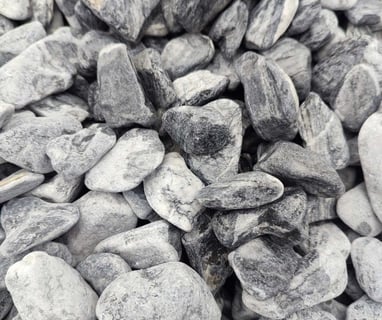 Explore how pebbles can be used for creative and artistic applications
The use of pebbles in creative and artistic applications has inspired artists to create unique works of art that highlight the natural beauty of pebbles and bring a fresh perspective.
Pebbles are often used in art projects. Artists carefully select pebbles to create unique patterns and textures.
In addition to traditional art, pebbles are also used in the field of crafts. People of all ages can create decorative objects or even summer souvenirs, having fun and expressing their creativity.
Finally, pebbles are a central element in marketing and advertising campaigns. Their natural beauty and flexibility to be shaped into various forms make them ideal for attracting the public's interest and leaving a lasting impression in people's minds.
Overall, the creative and artistic applications of pebbles demonstrate that these natural elements can be transformed into unique works of art, enhancing the emotional connection between humans and nature and offering a creative expression that inspires and impresses.
In conclusion, pebbles are a valuable natural resource with countless uses and applications. Their use in construction projects and architectural solutions provides an alternative, sustainable option with benefits for the human community and the environment.
Pebbles can also be harnessed in landscape design and environmental decoration, creating unique aesthetic results. Additionally, their creative and artistic applications serve as a source of inspiration and creativity.
Check our Instagram page for more information about our products and services: